The story of a small inn and historical background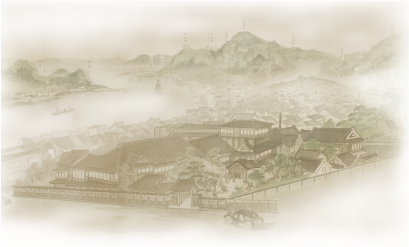 Tosei Han'ei Ro
The time was in the last days of Tokugawa shogunate, the year before new era of Meiji. Feudal retainers of Aki and Choshu gathered and pleased themselves with Sake each and every day at a Japanese Restaurant Inn "Ehan", also known as "Tosei Han'ei Ro".
Restaurant Inn "Fujihan"
The days have passed. Along with the rapid and dynamic change of the times, Ehan had also changed itself into a Restaurant Inn "Fujihan" in the early years of Showa era. And then again changed into a dance-hall, a school for brides, a culture center after World War II.
Japanese Restaurant "Fujihan"
In 58th of Showa (1983), Japanese Restaurant "Fujihan" revived. It had gained popularity and been loved for a long period of time. However, after 36 years of service, the sign was withdrawn regrettably in June 2019.
"Onomichi Hansei"
Then in 2020 (2nd of Reiwa), now the new history has began as a Japanese Restaurant Inn "Onomichi Hansei" right at this place, where we welcomed so many people as "Ehan" and "Fujihan".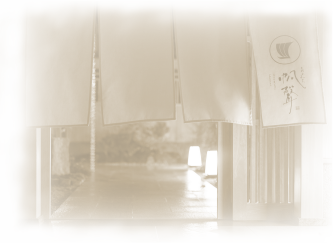 Accommodation date
Check in
―
Check out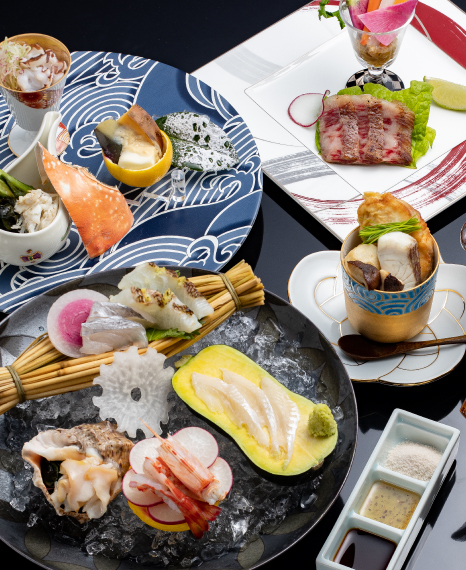 Service a la Carte of
Japanese Restaurant Inn
Committed dishes using carefully selected local products
Our commitment on our dishes as a pride of former Japanese Restaurant.
Dinner menu is an authentic Japanese-style Kaiseki cuisine course : carefully selected Onomichi-unique local products such as Sashimi (assorted sliced raw fish) served with various seasonings "Lemon Salt / Herb Oil / Tosa Soy Sauce", vinegar from a traditional vinegar brewery Sugita Yojibee Shoten in service since 1885.
Please enjoy our Onomichi Hansei-style which allows you to experience our food culture of Onomichi throughout the course.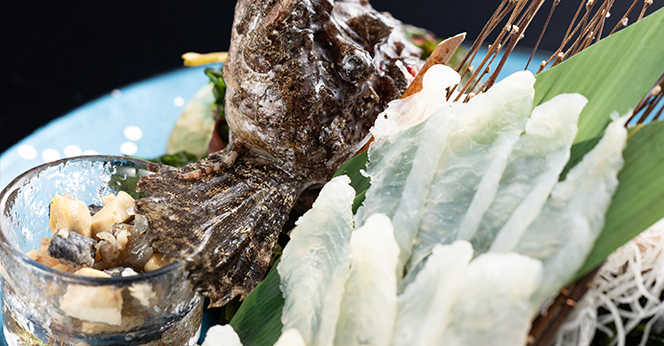 Carefully selected seasonable
vegetables from Onomichi
Onomichi Brand Experiencing
food culture of Seto Inland Sea
Devoting to Onomichi food from the beginning to the end, abundant seafood from Seto Inland Sea will be served as your main dish.
Luxurious food stimulating all five senses, cooked with elaborative skills and colored with garnishes of seasonal vegetables grown in our mild climate.
Creative Japanese Kaiseki cuisine using plenty of seasonal tastes from Seto Inland Sea.
We hope you enjoy the cuisine, carefully selected and cooked to bring out the best of the ingredients.
Guest Rooms

Rooms with uniqueness and originality
A small inn with 5 different room types, 11 guestrooms in total.
Embellished the interior and guestrooms with the taste of Japanese Modern Classic.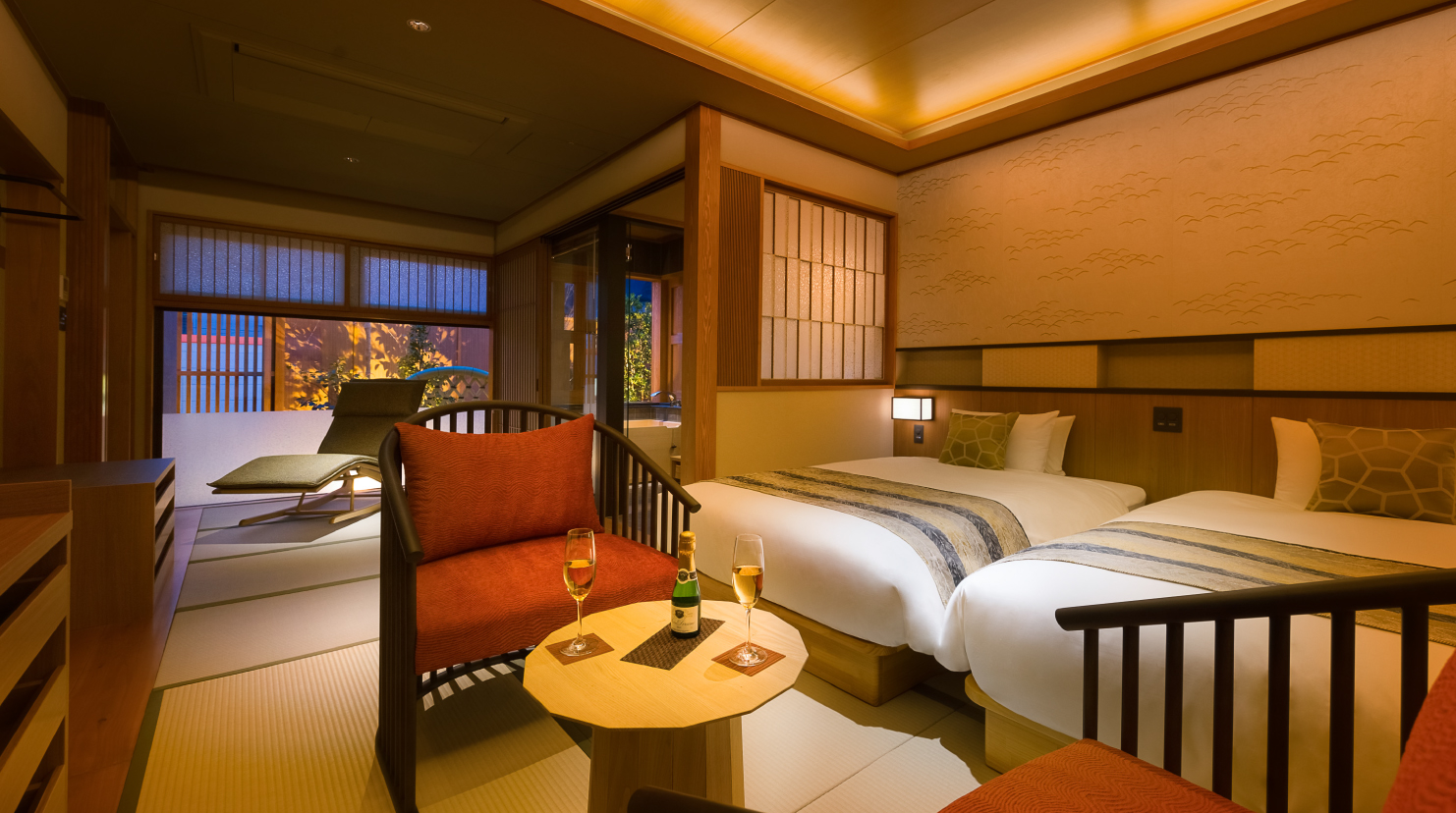 Premium Room
(with semi-open-air cypress bath + exclusive Japanese style patio)
1 Room #207
Premium room with exclusive Japanese style patio and semi-open-air cypress bath
Our only room with a semi-open-air bath allows you to have a luxurious bathing time with the healing effect of cypress aroma and a nice garden view.
The room has a private patio which gives you a taste of Japanese style garden. Have a nice and quiet stay at a room located in the corner.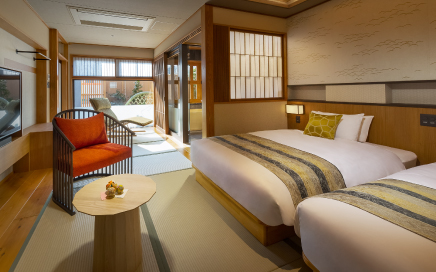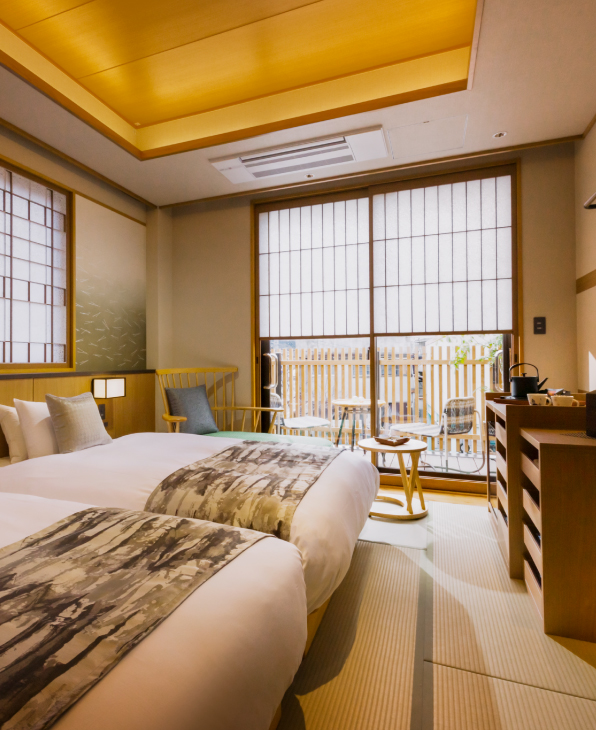 Japanese Modern Room
(cypress bath + balcony)
3 Rooms (#204 / #205 / #206)
Japanese Modern Room with private balcony and cypress bath
In addition to its functional facility and amenities, "indoor cypress bath" brings out delicate healing scent of cypress and a private balcony with excellent view of the port town. Please relax and enjoy the moment away from daily life.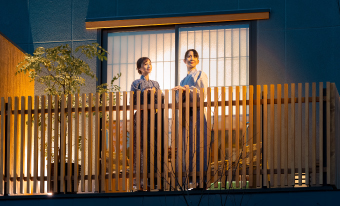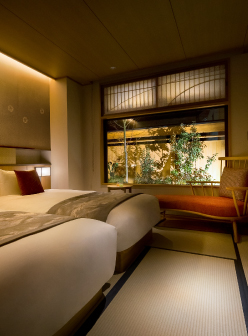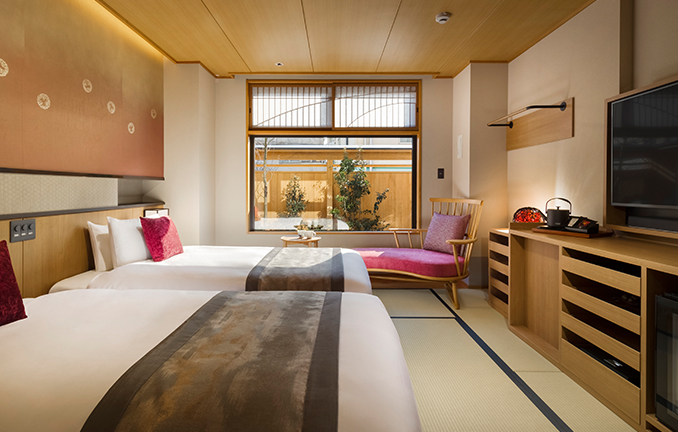 Garden Twin
(with RAKU-YU)
4 Rooms #101 / #102 / #103 / #104
Garden Twin Room equipped with twin beds and a garden
Standard type room. A room on ground floor with a garden view which provides you an open feeling.
ACCESS
2-15-15 Kubo, Onomichi, Hiroshima, 722-0045
TEL:+81-(0)570-015-544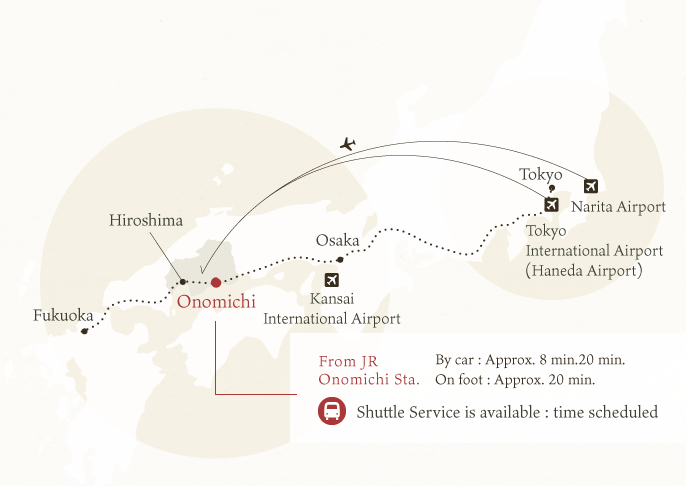 From Hiroshima

・By car:Approx. 1h
・Highway Bus:Approx. 1h and 30 min.
・Shinkansen:Approx. 50 min.
・Local train:Approx. 1h and 30min.
From Osaka

・Shinkansen(via JR Shin-Onomichi Sta.):Approx. 1h and 30min.
・Shinkansen(via JR Onomichi Sta.):Approx. 1h and 45min.
From Tokyo

・Shinkansen(via JR Shin-Onomichi Sta.):Approx. 4h and 10min.
・Shinkansen(via JR Onomichi Sta.):Approx. 4h and 25min.
From Fukuoka

・Shinkansen(via JR Shin-Onomichi Sta.):Approx. 2h
・Shinkansen(via JR Onomichi Sta.):Approx. 2h and 15min.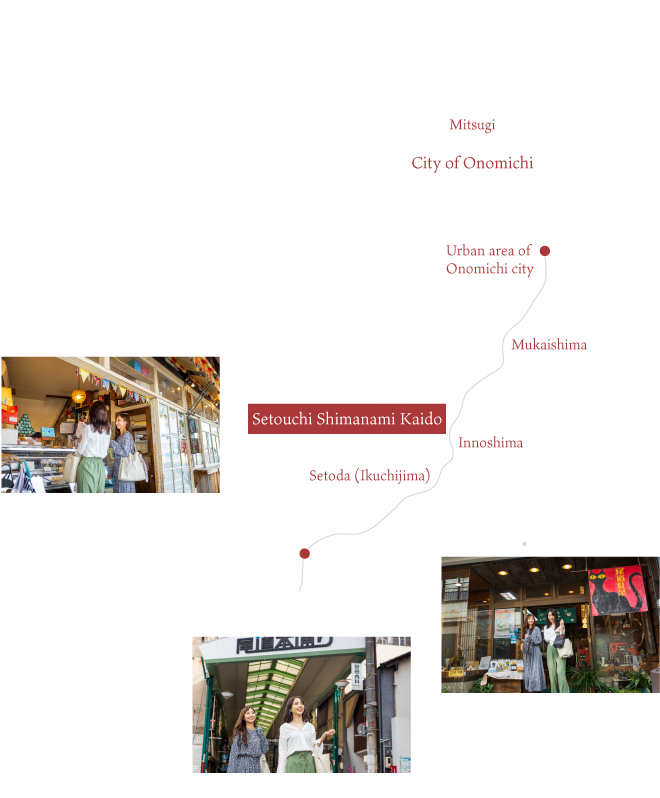 The Onomichi story, "A Miniature Garden City from the Middle Ages Built Around the Onomichi Channel", was recognized in 2015 as a Japan Heritage.
The landscape of a coastal town that has been created for generations between the sea and mountains is reminiscent of a miniature garden which makes the view of Onomichi unique.
Between private houses, National Treasures and Important Cultural Properties since middle ages are erected along intricate alleys and slopes, which engender nostalgic atmosphere of Onomichi.
The view of dotted-island-beauty of "Setouchi Shimanami Kaido", the bridges connecting the islands of the Inland Sea is another wonderful scenery unique to this place.
GALLERY